Download Ocean's Thirteen Trailer [17.7MB]

Download DivX Web Player

Download Ocean's Thirteen Wallpapers
---

Ocean's Thirteen - Synopsis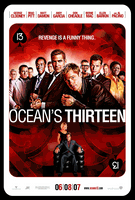 Click to Enlarge
The sequel to Ocean's Eleven (2001) and Ocean's Twelve (2004). Ocean's Thirteen will be mostly filmed in a re-created casino on the Warner Bros. lot in Burbank, with some external scenes filmed in Las Vegas. This time around, the team are after diamonds and are out for revenge when a casino owner (Pacino) cuts Tishkoff (Gould) out of a deal.
Danny Ocean (George Clooney) and the gang would have only one reason to pull off their most ambitious and riskiest casino heist -- to defend one of their own. But they're going to need more than luck on their side to break The Bank.
Ruthless casino owner Willy Bank (Al Pacino) never imagined that the odds were against him when he double-crossed Danny Ocean's friend and mentor Reuben Tishkoff (Elliott Gould), putting the distraught Reuben in a hospital bed in critical condition.
But Bank miscalculated...badly. He may have taken down one of the original Ocean's eleven, but he left the others standing and, worse for him, gave them a shared purpose: to take Bank down on the night of what should be his greatest triumph - the grand opening of his new casino, appropriately named The Bank.
Their strategy is twofold. First they will ruin him financially by turning the tables on the precept that the house always wins. But that's just money. The knockout punch will be to Bank's personal pride and joy: his reputation as the only hotelier who has earned the Royal Review Board's Five Diamond Award on every single one of his hotels.
The plan is elaborate, dangerous and damn near impossible...but there are no limits when it comes to one of their own.
"Ocean's Thirteen" reunites stars George Clooney, Brad Pitt, Matt Damon, Andy Garcia, Don Cheadle, Bernie Mac, Casey Affleck, Scott Caan, Eddie Jemison, and Shaobo Qin, with Carl Reiner and Elliott Gould. Al Pacino joins the cast as Willy Bank, with Ellen Barkin starring as his right-hand woman, Abigail Sponder.